Article
Toi Ora Trust
Toi Ora interviewed James S. Watson prior to the launch of his upcoming Boosted campaign and exhibition of drawings. He talks about the project and how art contributes to his wellbeing.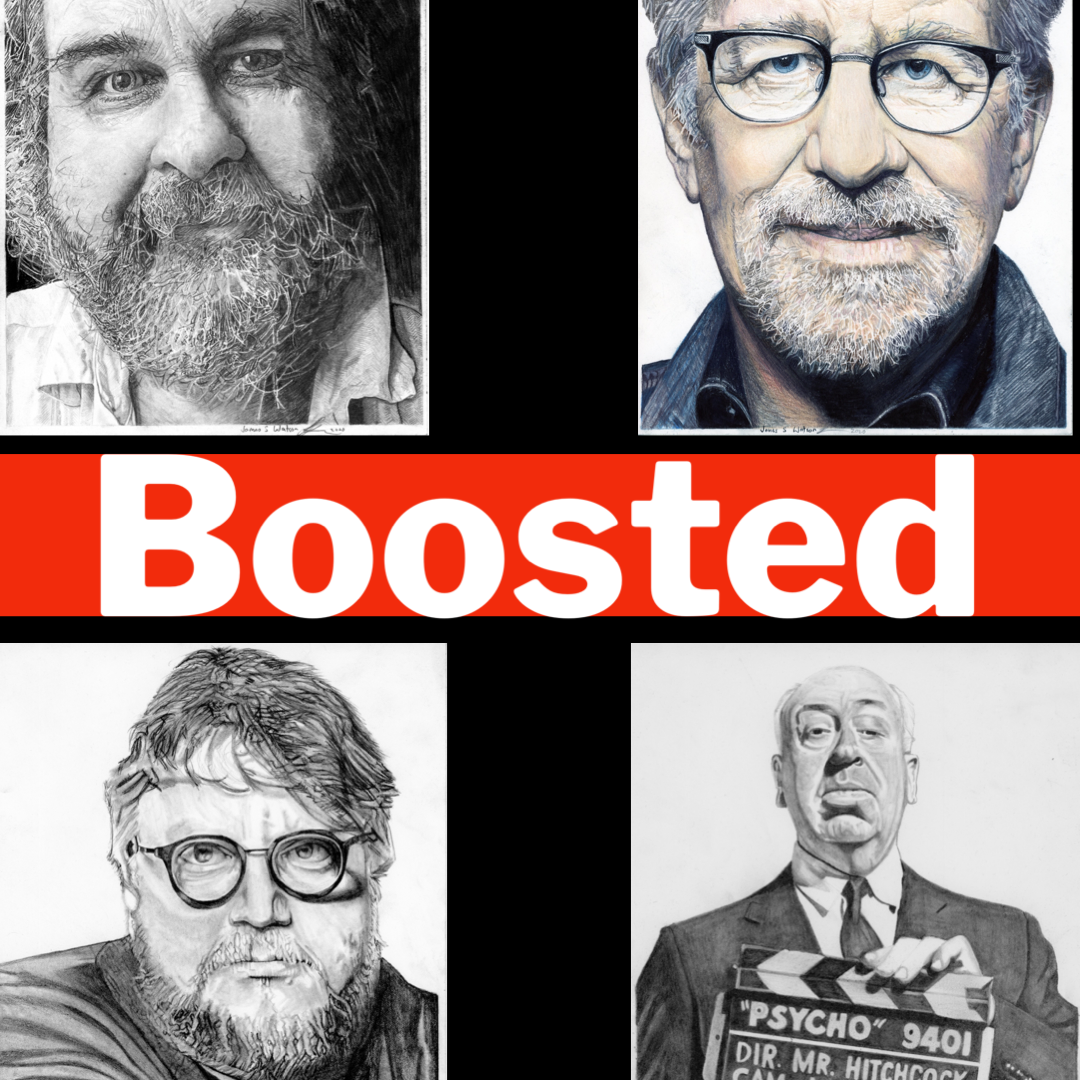 AC: 'Hi James, tell us a bit about the project you are raising funds for via Boosted…'
JW: "In the Month of July I am running a boosted campaign to help with the cost of renting the Upstairs Gallery (Lopdell House, in Titirangi) in October.
The project is called 'From Inside a Bubble: When an artist's response to isolation is the company of storytellers and personal heroes.' In 2020 while we were all in our protective bubbles I used that time to create a series of drawings. These drawings were of Movie Directors. 7 Triptychs (21 drawings in Total, two black and white and one colour pencil).
I am asking for assistance because as someone that is disabled and lives just within his means as a beneficiary, the added pressure of covering the rental cost of this is $800 and is more than I can afford. In saying that the opportunity to have a solo exhibition at Upstairs Gallery is an opportunity I don't want to miss out on."
AC: What drew you to the particular subjects in your portraits (please excuse the pun!)
JW: "The movies for me are something that I need to escape from the world. When I was dealing with my Depression, I would watch a movie or TV show. They were a way to help forget even for a moment obstructive thoughts and disruptive feelings. So I felt as though it was a perfect chance to champion those stewards of my relief in this series of drawings. Directors are from time to time unsung heroes… Orchestral leaders of visual delights, not often do the directors get the spotlight turned in their direction. Most of the time their movies themselves are as much that is known about them.
I felt that it was fitting to start my project with Alfred Hitchcock for example, because of the pure delight that he would have experienced if he was to direct a film about the COVID-19 level four lockdown. This uncanny ability to make anything seem tense and thrilling would have led to some chilling moments Truth be told most of the Directors I have chosen to draw for this series were/are masters of cinema and given the chance each director would have relished the chance to embrace the absurdity and terror of an invisible menace that could infect you and irrevocably change your body forever."
AC: And in terms of the act of drawing, can you describe how it contributes to your wellbeing?
JW: "Everything becomes more peaceful, I take great comfort in getting the details right. The more I can get an accurate depiction of a person's features, or there characteristics the more of a sense of accomplishment I feel afterwards. Then I move on. I don't dwell as much on thoughts and feelings, I get the feeling of calm, time goes quicker, and everything is right in those moments. So when it came to the COVID-19 lockdowns, I didn't spend more than a moment or two dwelling on what could be, because I was living in those moments where I was drawing. As the main contact person who went into the community for my household, sure those were some of the more stressful and macabre moments, but again coming home, decompressing with a complicated drawing was a calming and ultimately rewarding experience.
As someone that has both the experience of Dysthymia (experiential Depression) and a Chronic Pain condition called Fibromyalgia the amount of time I can access the community and embrace the world has always been….limited. Before I embraced drawing into my life, I would ruminate for hours on what could happen, what I should say or think or do. It was exhausting! But after I picked up the pencil, my brain didn't have time to do the same Rumination. Well should I say for the most part…. Drawing really limited the amount on floor space to move around, it allowed me to be more mindful of the thoughts that did crop up from time to time. Making them more manageable, to the point that I can say for nearly 10 years now I have not let the darkness of depression pull me under the surface and smother me with its cold presence and that I believe is thanks to my Drawing and art making practice."
AC: Thanks for sharing this with us James, where can people support your Boosted campaign and find out more about your October project?
JW: "Thank you for interviewing me. For more information about my boosted campaign it can be found at https://boosted.org.nz/projects/from-inside-a-bubble
The exhibition is from 8 October 2021 Upstairs Gallery, Level 1 or Lopdell house in Titirangi. More information will be made available closer to October.