Attitude Artistic Achievement Award
Auckland artist Andrew Blythe has won the Attitude Artistic Achievement Award 2012, announced last night at a black tie gala evening at Auckland's Viaduct Events Centre.
Since 2000, Andrew's passion for painting has been supported by Toi Ora Live Art Trust, a creative space (community arts centre) in Grey Lynn, Auckland. Toi Ora provides studio space and tuition for people who have experienced mental illness.
"We were thrilled that Andrew won this award," says Erwin van Asbeck, Director, Toi Ora Live Art Trust. "This caps off an amazing year where he's had a lot of national and international exposure. Now, we're looking forward to Andrew's next show at the Tim Melville Gallery in the first half of 2013."
Recognition in Big 'A' Awards
In July, Andrew was highly commended in Arts Access Aotearoa's Big 'A' Artistic Achievement Award 2012, one of six awards in its annual Big 'A' Awards presented in Parliament.
Through his art and with the support of Toi Ora, Andrew has found a way to keep well. His art is a full-time job and he has been exhibiting his works over the past nine years in numerous group shows, as well as two solo shows in at Satellite Gallery and at the Tim Melville Gallery, both in Auckland.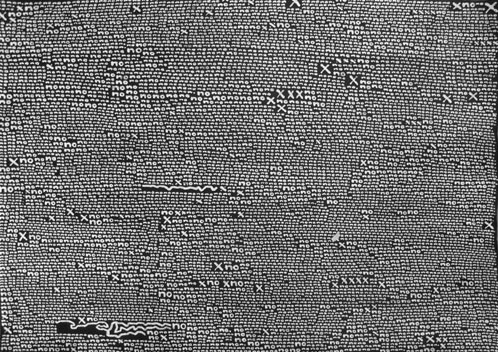 He was also one of the artists with work in Arts Access Aotearoa's "Original Voices" exhibition, on at the Pataka Museum of Arts and Cultures in Porirua, in September.
With Stuart Shepherd, his paintings have been shown in Paris, at the New York Outsider Art Fair, and at the MADmusée in Liège, Belgium in August and September this year. Most recently, his work featured at the Darren Knight Gallery in Sydney.
Stuart says that Andrew is wonderful painter, who is focussed on his art and the process of painting. "His work is extremely consistent and assured, and he seems to have an intuitive radar that guides his composition. Andrew contributes to the international language of abstraction."
Development of art and wellness
Erwin says that Andrew's work has developed hugely since he's been coming to Toi Ora. "His wellness has also flourished to the point where he is living independently."
Other Attitude Award recipients are Erin Gough (Youth Award), Neelusha Memon (Courage in Sport), Adam Hall (Sport Performer), Sir Murray Halberg (Hall of Fame Inductee), Invacare (Attitude ACC Employer Award) and Nola Burgess, who won the Attitude Making a Difference Award. Sharon Davies won the Spirit of Attitude Award and Attitude ACC Supreme Award, heading off strong competition from more than 20 other national finalists.
The Attitude Awards celebrate the outstanding achievements of New Zealanders living with a disability and have grown out of the Attitude TV series, which screens on TV ONE on Sunday mornings.